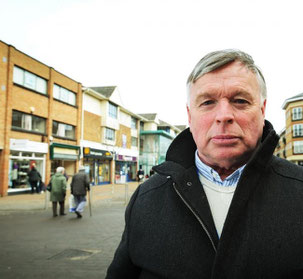 "At the moment we don't know where they're going to be putting the houses – but if they go in the wrong place
all hell will break loose"
MORE than 4,000 homes could be built in and around Kidlington, turning the largest village in the country into the largest village in the continent. Cherwell District Council's executive approved the launch of a public consultation on how the district should accommodate 4,400 homes that Oxford is unable to take – with Kidlington bearing the brunt of the city's unmet need.
Chairman of the village's parish council Maurice Billington said the proposals did not mean Kidlington would have to start calling itself a town - suggesting instead that they could put the village on the road to becoming the largest in Europe.  Mr Billington, who is also the vice-chair of Cherwell District Council, said: "We can keep calling ourselves a village and don't have to turn ourselves into a town - just a large village.
"Kidlington may become the largest village in Europe in the end. "If I suggested the village should become a town I would be hung, drawn and quartered. I don't really think there's anything to gain from becoming one."
2,200 of the homes could be built on land south of the A34. A further 1,650 homes are earmarked for the west of Kidlington near Begbroke, with the final 550 proposed to the south east of the village.
Mr Billington added that, without more specific details on the locations of the homes, it was too early to tell whether the 4,400 additions would have a negative impact.  The new homes earmarked for the area by the Oxfordshire Growth Board will come in addition to the 22,840 already allocated to the district in the council's Local Plan, an important planning document outlining sustainable areas for development across the district up until 2031.  The Cherwell Local Plan Part 1 was adopted in July 2015 and contains strategic development policies and proposals for the district, including for housing and employment. The executive's decision follows the findings of the 2014 Oxfordshire Strategic Housing Market Assessment, which identified that Oxford City Council would be unable to meet Government housing targets due to boundary constraints and a lack of development sites.
For information on how to comment visit the consultation page at cherwell.gov.uk/planningpolicyconsultation