Clr Barry Wood's reply to an open letter asking him to rethink or resign is published in full below.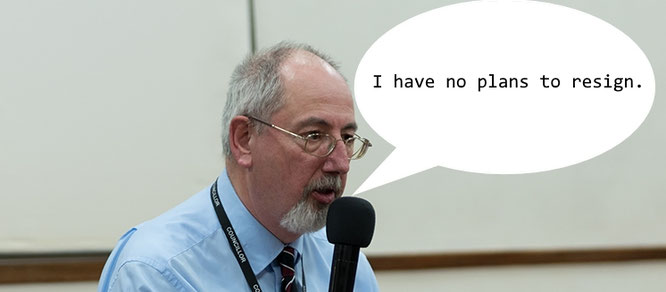 Date: 28 September 2017 at 14:14
Subject: RE: Cherwell DC's response to Kidlington Public Meeting
Dear Ms Ward
Thank you for your email. It may be helpful if I explain the current position of Cherwell as the Local Planning Authority or LPA.
For any LPA to be in a position to resist speculative planning applications from developers, it needs to have two key defences. First a valid sound Local Plan, and second what is known as a "five year housing supply". Cherwell currently has both of these bulwarks, but the Local Plan, when it was approved at public examination , had an important caveat attached by the Government appointed independent Inspector. This said  that to remain valid, the LPA had to deal with Oxford unmet need as defined in the Strategic Housing Market Assessment or SHMA. This caveat was strictly time limited or the Plan would run the risk of losing its "sound" status. The current consultation is timetabled to meet that requirement.  If the Council wants to continue resisting speculation, it must complete the partial review in a timely manner. So no delay and certainly not abandonment.
The Council will need to respond to the current consultation after it closes and will consider carefully the view of residents and other respondents. Either which way, the final Local Plan proposals will themselves be the subject of an Examination in Public before a Government Inspector. These Examinations are a Quasi Legal process. The Inspector can put forward changes to (and for that matter reject) the end proposals. You can see that the views of residents, local Councillors, and Parish Councils are and will continue to be significant as this process unwinds.
Separate to this background, the recent central Government consultation on future ways to calculate housing need has encouraged some residents to argue that that there is a new reason to halt the process. The Council takes the view that even if the matters in the Government document are eventually put into the National Planning Framework without alteration,  it will be too late for our needs. It is also possible that when the various aspects set out in the Government document are worked through (assuming it does not change), that the housing need calculation for Cherwell may end up near the current (and valid) SHMA levels anyway.
It is, at least in theory, possible that an Inspector could postpone the Examination of our eventual proposals because of a potential new housing needs calculation methodology coming down the road. This however is unlikely.
I realise this is complicated. There are two other points to make from my point of view. First, that I am fully aware of the strength of public opinion (not least because local District Councillors relay it to me). Secondly, that even if the current housing proposals make it through the consultation and the Examination, there is a third hurdle, namely a vote of the Council. In this context it is important to remember that there is no party " whip" applied to matters relating to planning.
I anticipate you may not like or agree with the above, but I felt the subject deserved a considered and detailed reply.
I finish by confirming that I have no plans to resign.
Yours sincerely
Councillor Barry Wood
Leader of the Council
Find us on Facebook www.facebook.com/cherwelldistrictcouncil
Follow us on Twitter @Cherwellcouncil
P Please consider the environment before printing this email
KDW analysis from Alan Lodwick
It is deeply disappointing that Clr Wood refuses to listen to calls led by Layla Moran MP to defer deciding the fate of the Green Belt  to allow time to refine new methods to assess housing need.
While we agree that CDC should have an up to date local plan, Government Guidance in the NPPF makes clear that - especially because of the existence of the Green Belt - it did not have to accept the SHMA figures in full. Nor has it been under an obligation to accept the excessive economic growth proposed by the unelected Oxfordshire LEP which contributed to the exaggerated SHMA figures. By agreeing to such high figures they also make it more difficult to maintain a 'five year housing land supply' in the future. Why the leaders of Cherwell Council continue to roll over and meekly accept all of this continues to be a mystery to us.
Possibly the answer lies in the Council's increasing dependency on housing development as a key income generating activity.  Lastly, we challenge Clr Wood's attempt to abdicate responsibility 'there is no Party whip on planning'.  He is Leader of the Council and he represents Cherwell on the Oxon. Growth Board.