Cherwell District Council are now inviting feedback on draft development briefs for the sites between Kidlington and N Oxford. On the map below they are marked as PR7a (Water Eaton Lane/Sainsbury Roundabout, the Golf Course (PR6b) and the land west of Oxford Road below Cutteslowe park.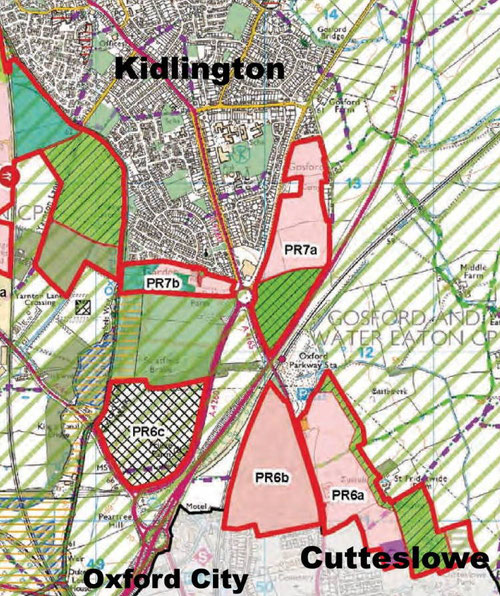 All 3 development briefs are available to view online at:
https://letstalk.cherwell.gov.uk/development-briefs
KDW has not had time to review the proposals and welcome residents thoughts. We do encourage people to take part in this consultation as it is likely your best opportunity to influence both the developers plans and the planning officers view of them.
You can respond by email at developmentbrief@cherwell-dc.gov.uk, or via the online survey form or by post to the address below.
These consultations will run for 6 weeks from 26 January 2022 to 11.59pm on 8 March 2022.
The council notice says that:
Members of the Planning Service are available throughout the consultation to assist you. If you have any queries or have difficulty in accessing the draft development briefs and supporting documents online, please contact us at:
Cherwell District Council, Planning Service
Bodicote House, Bodicote, OX15 4AA Tel: 01295 227006