On 5th September 2023, Cherwell's Executive Committee approved a draft of the Local Plan Review 2040. The consultation will be for six weeks, commencing in September, and the feedback received will help the council progress further work on the Plan.
See the full announcment here and sign up to be told when the consultation starts
We are promised that  "this is not a final plan. We are still gathering evidence and considering our options, so it is an excellent time for people to let us know if the Plan meets the district's needs, and to share their views on how we could improve it."
We are deeply concerned to see that Chewell wants to take yet more Green Belt for housing development. Their previous consultation said that this was not proposed, and the recent Local Plan partial review should have set the new boundaries. 
The draft Local Plan proposes taking the land behind the Moors out of the Green Belt for housing development.
Once again, the proposals are based on an unnecessarily excessive level of housing provision. Cherwell would be unlikely to maintain such a high 5 year housing supply. That would leave the District open to speculative development proposals.
The level of employment provision is really alarming. It will be used by developers to justify even more housing (Behind the Moors and elsewhere). A recent letter to the Oxford TImes spells out the problem very well:
---
OUFC stadium Decision due 19th September
Oxfordshire County Council Executive Committee is expected to make a final decision on the stadium at it's next meeting on 19th September. The Officers report on the Stadium proposals and results from it's latest public consultation is available for download at:  https://mycouncil.oxfordshire.gov.uk/ieListDocuments.aspx?CId=1173&MId=7296 The papers are in the Agenda reports pack, starting at page 157 on the print version.
The consultation confirmed the findings of the Parish Poll - that 2 in 3 local people object to the stadium or have serious concerns about it's impact. The County Council Officers' report failed to consider residents concerns in any meaningful way.
Friends of Stratfield Brake website has 3 interesting updates  These include their analysis of the OCC's consultation findings and visualisations of the scale of the stadium. FoSB are urging people to write / email councillors before the County council meeting .
Visit their Campaign page for information & addresses
Kidlington Parish Council (KPC) reviewed the latest information at it's meeting on Thursday 7th September. A majority agreed that OUFC's proposals were inadequate. KPC voted in favour of objecting to OUFC's proposal to build a large commercial stadium on the Kidlington Roundabout.
Meanwhile, OUFC have submitted an Environmental Impact Appraisal scoping report to Cherwell District Council. Another lengthy document but containing some interesting details that were omitted from it's public consultation information. We always knew it would be a BIG football stadium, yet the reality is still a shock. The planning application is expected to be for:
'Erection of 16,000 capacity stadium, incorporating flexible commercial and community facilities for conferences, exhibitions, educational spaces or other events (including public restaurant and bar, café, Health and Wellbeing facilities/clinic facility, shop and gym), a 200-bed hotel, and multi-functional plaza, and associated parking, landscaping and other supporting infrastructure'
it would largely fill an area 42,460m2 (twice the size of the Sainsbury's site at 19,829m2)
At it's lowest, it would be around 16m high - that is as tall as the 100 bed Premier Inn on Langford Lane Science park (this presumably is the 200 bed hotel /commercial complex nearest the station)
At it's tallest 25m high (this presumably are the main stadium stands).
The report acknowledges 'scope for significant landscape visual effects'
Vehicle access via Frieze Way with only emergency access on Oxford Road.
It would dominate the southern entrance routes into Kidlington.
The red line area (shown here) extends to approximately 7.3 ha.

much of the land will be under the stadium footprint. A token area nearest the roundabout will be left open.

Car parking will be close to the 'preserved woodland' to the south.
The inclusion of the woodland in the redline is an error. OCC own the wood, it is not included in any land transfer proposal and will continue to be managed by it's forestry team.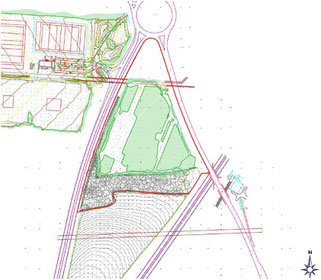 ---
Massive development around Begbroke Science Park (PR8).
An outline planning application (23/02098/OUT) has been submitted for the large site between Kidlington, Begbroke and Yarnton around Begbroke Science Park. This is the largest of the sites (known as PR8) in the local plan review which KDW and other local groups challenged all the way to the High Court in 2021. Unfortunately we lost that challenge and the site has been removed from the Green Belt.
Comments on the application should be made by September 15th. There is no point in objecting to the principle of development on the site as that has now been established. However comments can be made on the details of what is proposed. The planning application is accompanied by a huge number of documents which it is almost impossible for any member of the public to navigate and consider in any reasonable time.
You might, however, like to comment on the following:
The application includes 155,000 square metres of floorspace for employment purposes. It says that this will accommodate more than 5,000 new jobs. This is in addition to the development at Oxford North (4,000 jobs) and Langford Lane Technology Park (over 1,000 jobs). Ten thousand plus new workers cannot be accommodated in the 4,400 houses proposed in the local plan for our area and therefore will lead to further in-commuting and strains on our creaking infrastructure.
 Changes to the crossings over the railway line and canal on Sandy Lane which might result in its closure. The proposals on this are not clear. But if you object to the closure of Sandy Lane to vehicular traffic you might want to say so in your comments.
The application refers to Houses of Multiple Occupation (for up to six people use class C4) and larger). Presumably these are for students. However, there is no detail about how many are proposed. Will we actually be living next to a University Campus? 
For your information the brief description of the proposal is as follows:
Outline application, with all matters reserved, for a multi-phased (severable), comprehensive residential-led mixed use development comprising: Up to 215,000 square metres gross external area of residential floorspace (or c.1,800 homes which depending on the housing mix could result in a higher or lower number of housing units) within Use Class C3/C4 and large houses of multiple occupation (Sui Generis); Supporting social infrastructure including secondary school/primary school(s) (Use Class F1); health, indoor sport and recreation, emergency and nursery facilities (Class E(d)-(f)). Supporting retail, leisure and community uses, including retail (Class E(a)), cafes and restaurants (Class E(b)), commercial and professional services (Class E(c)), a hotel (Use Class C1), local community uses (Class F2), and other local centre uses within a Sui Generis use including public houses, bars and drinking establishments (including with expanded food provision), hot food takeaways, venues for live music performance, theatre, and cinema. Up to 155,000 net additional square metres (gross external area) of flexible employment uses including research and development, office and workspace and associated uses (Use E(g)), industrial (Use Class B2) and storage (Use Class B8) in connection with the expansion of Begbroke Science Park; Highway works, including new vehicular, cyclist and pedestrian roads and paths, improvements to the existing Sandy Lane and Begbroke Hill road, a bridge over the Oxford Canal, safeguarded land for a rail halt, and car and cycle parking with associated electric vehicle charging infrastructure; Landscape and public realm, including areas for sustainable urban drainage systems, allotments, biodiversity areas, outdoor play and sports facilities (Use Class F2(c)); Utility, energy, water, and waste water facilities and infrastructure; together with enabling, site clearance, demolition and associated works, including temporary meanwhile uses. The Proposed Development affects the setting of a listed building and includes potential alterations to public rights of way. The application is accompanied by an Environmental Statement
---
From

Kidlington Development Watch.