At the time of writing, a proposal has just been made for a new 18,000 capacity football stadium for Oxford United together with leisure, retail, hotel and conference centre developments to be built on the Stratfield Brake Sports Ground. We argue that this appears to be an inappropriate development that is not in Kidlington's long term interests.  The proposal has been launched with a  massive PR drive aimed at obscuring the very real planning concerns.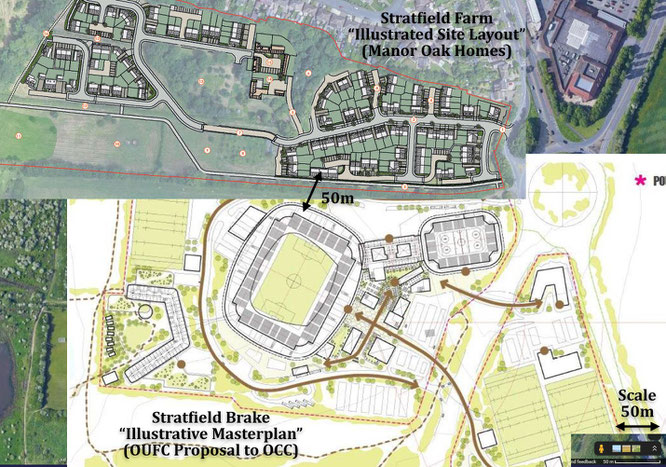 It would be in one of the few remaining areas of Green Belt that separate Kidlington from Oxford and is likely to be very unwelcome to residents in the surrounding areas and the new housing developments. The stadium would be a large and dominating structure; a similar new stadium for Brentford FC is as high as a seven-storey residential block. Further commercial, retail and leisure development is also proposed, so there would be much increased activity most of the time. This would put extra pressure on the surrounding road network and infrastructure, on top of that already arising from the 4,400 new homes to be built. On-street parking problems are likely.  It would also be an unsuitable neighbour to the Stratfield Brake Nature Reserve and the new nature conservation area at Stratfield Farm.  
 The development would weaken the possibility of creating the 'Kidlington green ring' we are proposing via the Local Plan. It seems to be a further step towards becoming merged with Oxford. The development of this site appears in none of Cherwell District Council's plans and in 2017 it rejected a similar proposal at an early stage. We cannot see that anything has changed to alter that position.

We enjoy football and wish Oxford United FC every success - but not at this cost. Stratfield Brake is simply not the right location for a major football stadium and associated commercial development.